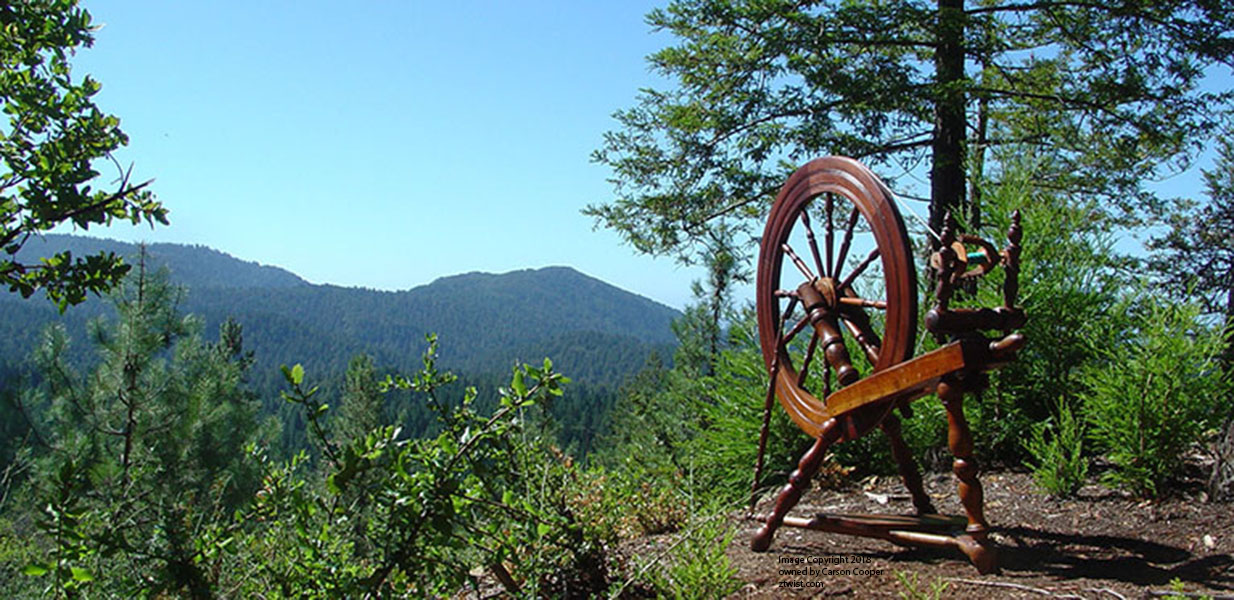 Welcome
"Ztwist" is a term familiar to most handspinners, being a direction of twist inserted into yarn. It is also the web home for Carson Cooper Spinning Wheels, manufacturer of fine handmade tools for the fiber community. For those looking to have a wheel custom made, we invite you to review our "Commissions" page for a preview and listing of the available wheel styles to choose from. Currently only wait list requests will be taken. Please note: Due to the fire we don't expect to be building wheels until at least late 2021, possibly even later.
Shop News
As of August 20, 2020, it pains us to announce that Coop's home and workshop were completely destroyed by the massive CZU August Lightning Fire that hit the Santa Cruz mountains. All wheels in progress, wood and other supplies, specialized and vintage tooling for building wheels, jigs, fixtures, antiques, a small inventory of books, were lost in the fire. With exception of a few pertinent CAD files, book files, and plans for making Sabrinas and Emily wheels.
The process of recovery will be a slow and arduous one, but it is our intention to do just that. Recover. Perhaps not to the same extent, but certainly for the Sabrina and Emily wheels, as well as full publication of all book titles.
Coop is currently living rough, as are thousands from the area and throughout the state of California now. Resources are stretched for most, as they are for Mr. Cooper. This in the time of Covid, making things even more difficult.
For any who may wish to help in his recovery from this profound tragedy we have established the Donation link below. To any and all who send good wishes as well as contributions to our recovery, my extreme gratitude goes out to you. Thank you, and be well.
Please note: Due to the Covid pandemic, we will not be providing International shipping for the foreseeable future. Shipping shall remain available within the United States.
Available wheels (and books!) For Purchase (books only at this time) or Wait List (wheels).
For information regarding getting on the list for future builds of any wheel shown below, additional photos, etc. our e-mail contact is: info@ztwist.com
To purchase books, just click on the link below image to visit our book store.