the "Quincy" Wheel




Modernized "reproduction" based on an accelerated upright spinning wheel dating from the 1830's.

Weight 28 lbs. (weight approx, and varies with wood type)
Can live comfortable in a space 2 feet wide x 2 feet deep and 4 ft tall
Orifice height is approx 26 1/2 inches
Ratios from 16:1 to 28:1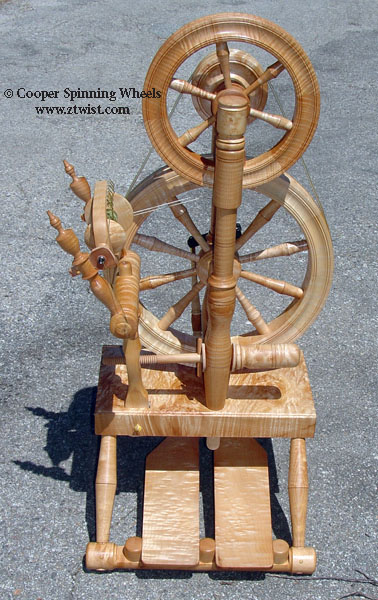 18 (approx) inch drive wheel, 12 (approx) inch accelerator wheel,
in a compact overall size.
Flyer placement must be specified either left or right.

Quincy in "pallet select" Cherry to be $2,400.
Walnut (mix of Eastern and Claro, which goes where up to builder) $3,000
If specifying extra special wood types (Figured Maple, Marbled and Curly Claro etc): price $3,500 to $4,500 depending on amount of figure
-Final pricing depends on wood selection-
Lower scale of pricing assumes Premium pallet select Cherry wood, higher end of price scale assumes Curly Cherry, Figured California (Claro) Walnut, or figured Western Maple.
Sorry, no rainforest woods are used on Cooper Wheels.

Precision bearings used on all pivot, or rotating, members for a nice, quiet, experience.