Now offering Reproduction flyer services!

-Instructions for taking measurements in the absence of an existing flyer may be found at the bottom of this page-
Complete Flyer Assembly from customer specifications
$325 This includes new reproduction flyer shaft, flyer arms with hooks, one whorl, and one bobbin.
Options:
-Additional Bobbins: add $64 per each (CPW bobbins may be fitted with ball bearings for a total price of $84 each)
-Additional whorls: $40 each
-Leather** bobbin bearings: $35 extra (total) per bobbin
**Leather bearings are only available if purchasing complete flyer assembly.
-Hard Maple bobbin bearings standard (included in the above price)
How to order: Contact us at the e-mail address at the left with your needs.
Please note: a 40% deposit is required before starting all orders to offset material costs, and any initial shipping correspondence required.
Upon order completion: Orders must be paid for upon completion, if no response from purchaser within 30 days after second notice the items will be sold and deposit forfeited.
Information required: It is not necessary (nor preferred) that you send us your existing parts. What is necessary is that we obtain accurate dimensions with which to assure your new flyer fits and performs as it should.
This may be done in two ways:
-Accurate measurements taken by customer, using a dial caliper accurate within .001 inch. (metric measurement also accepted).
Instructions on methods shown below.
1. Some of the measuring tools that would be helpful to give any of the measurements required:
-12 inch caliper
-standard carpenter square
-"cheapo" digital dial caliper
-"name brand" dial caliper (more reliable)
-micrometer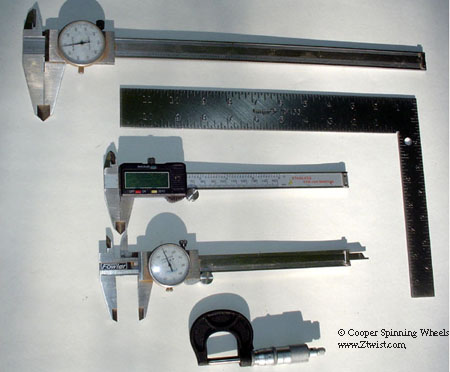 A sampling of flyers from various makers:

Sampling of bobbins showing the reason measurements would be needed to have replacements made.



2. Measuring the front maiden hole accurately for a restorer to size a new flyer to is VERY important. A "pin gage" is the best method for this, but others work also.
Below: using a standard drill to determine size.
3. To have a new flyer made you'll need the distance between maidens (inside, between the leathers). A rigid measuring device only. No dress maker tapes!
4. Next the distance where the drive band must lie. For those without a flyer to measure: insert a knitting needle, or such, through the maiden leathers, then string the drive band over the needle and measure where it lies in relation to the rear maiden bearing (as shown).
5. If you need bobbins made, and don't want to send away your flyer, a micrometer is needed to measure the shaft accurately for bobbin bearing sizing. Often there can be a small taper from back to front.
The front measurement should be where the front bobbin bearing will ride on the shaft. Make sure this matches the unworn portion if wear on the shaft is excessive though.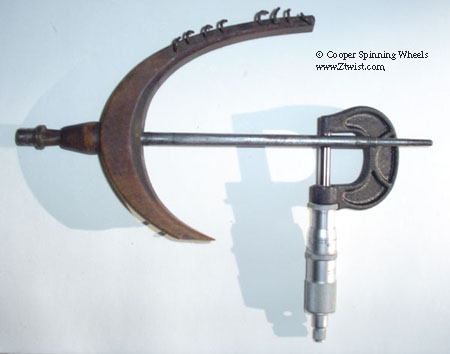 6. Next, the back measurement is needed. Just front of the worn area for the rear bearing should be taken (as shown), as you'll want your bearing to be large enough to allow the bobbin to be put on.
-In the absence of the above we can supply our "Flyer substitute tool" with which your dimensions (flyer shaft mating sizes, whorl and bobbin side to side position) can be set on your wheel. We will send you the tooling for this, you set it up and save the positions, then send it back and we will make the flyer to the specifications you have set the tool for.
Currently we are only offering Double Drive type flyers, as shown in pictures above
These are common to most American, European and Canadian wheels.