She's here! The "Krista" Wheel
An original Cooper Wheels design of an accelerated upright spinning wheel, allowing either left or right flyer placement
or both by adding an optional second flyer.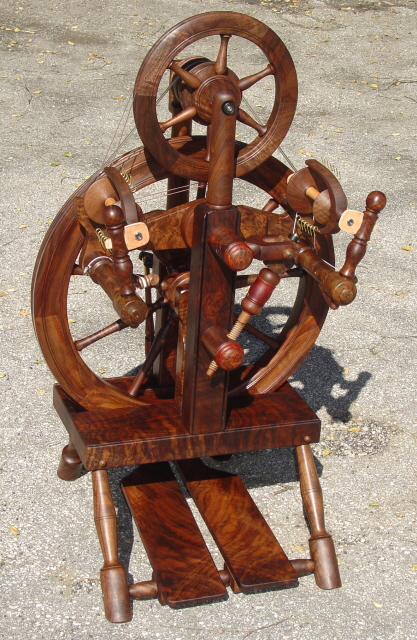 -Pricing for the 24 inch diameter wheel version: from $2,750 up to $3,950*
Optional second flyer: please add $255
Additional whorls: Add $35 each (three are included with wheel. Please read below for details). Three ball bearing equipped bobbins are also included in above pricing.
-Final pricing depends on wood selection, as specified below-
Lower scale of pricing assumes Premium pallet select Cherry wood, with no special figuring in wood beyond what may be found in random selection of boards.
*PLEASE NOTE> Higher end of price scale will be used when special figured woods are requested, or a mix of cherry wood and other Pacific Northwest woods are used in combination (ie: mix of cherry and Claro Walnut, mix of cherry and Western Maple or addition of burl woods) Example of Cherry with burled woods shown at bottom of page.
-----Krista wheels are longer available in solely Highly Figured Claro Walnut---
*Orders for a mix of Figured Claro Walnut and FAS Eastern Walnut will still be accepted, and priced at the highest end of above pricing scale.

Sorry, no rainforest woods are used on Cooper Wheels.

Precision bearings used on all pivot, or rotating, members for a nice, quiet, experience.
The accelerator head system:
Both a 1:1, as well as an approx. 3:1 accelerator wheel are incorporated into the standard configuration, with easy switching back and forth between the two (see photos below). This, to achieve the wide range of ratios. (from 8:1 possible, up to 60:1 approx. possible)

Standard ratios provided:
Using the direct 1:1 accelerator pulley set-up, the range is:
8:1, 10:1, 14:1 with an optional 20:1 whorl available.

Photos below show band placement in the two positions for
switching between low ratios (8:1, 10:1, 14:1, 20:1)
and the higher ratios.
click on any image below to enlarge

Last photo on right (above) shows the Krista wheel ready for transport.
Wheel separates into three components easily for transport,
and re-assembles hassle-free in about five minutes


Above: Cherry and Burl Maple